Mizzen+Main makes dress shirts from the same type of sweat-wicking material exercise clothes are made of. The result is a normal looking shirt that gets rid of sweat easily, i.e. there are no sweat stains even when doing presentations in hot weather. They dry quickly, so washing them on the road works well. They also don't wrinkle, so there is no need to iron them or to be extra careful when packing them.
I like the look and feel of them, so I also used them for my promotion clothes with the logo: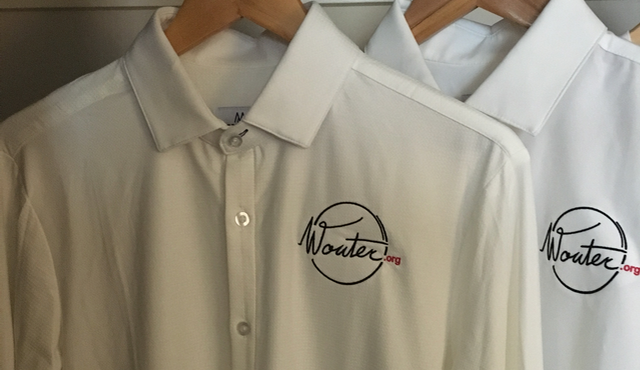 Disadvantages
The main disadvantage of these shirts, is that they wick all fluids, including coloured ones like coffee. Spilling a bit of coffee on the shirt immediately results in a big stain that I can't get out on the spot with some water and rubbing as with normal clothes. The stains do wash out without trace in the washing machine.
This effect is stronger on the original "Spinnaker" series, which has a more 3D weave of sports clothes and higher wicking capacity. The newer "Leeward" collection looks and feels more like a traditional cotton shirt.
For longer wearing they can also hold a bit more sweat-smell than you would expect, as they wick sweat too.
Conclusion
All in all, I love wearing these Mizzen+Maintheir website. Note that there is often a discount code available if you order more shirts. Try "mainman3″/"mainman6″/"mainman7" for 3/6/7 shirts respectively.